Identifying First Printings of
Carroll Quigley's "Tragedy and Hope"
March 24, 2016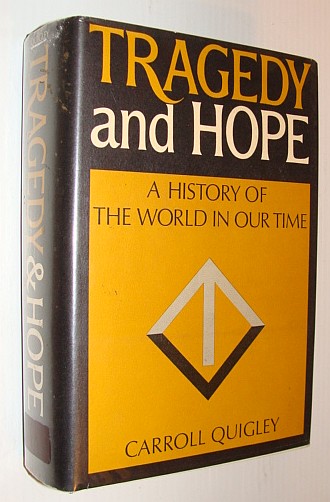 The following describes some of the points we consider when attempting to distinguish between true first printings and the multiple reprints, deceptive and otherwise, of this, Carroll Quigley's magnum opus. 
We make no claim that this information is correct or complete so any reliance upon it is entirely at your own risk.  At a minimum, we hope it will help you identify some points to consider when making your purchase decision. 
This work was first printed in 1966 by MacMillan.  It is generally accepted that after the first printing was distributed  certain powers realized Quigley had "spilled the beans" about their secret plans for global government.  Accordingly, they are said to have persuaded Macmillan to offer no subsequent printings, despite eager demand for the book.  (Incidentally, there also seems to be consensus that one or more reprints had this sensitive material removed.  We will not address this topic.)
Here we come to our first point.  Since ISBN numbers were not in use until the late 1960s, if your copy has an ISBN number on the dust jacket (per photo below), the copyright page, or anywhere else, it is a reprint.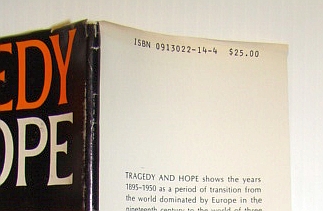 Perhaps the next printing was the "Angriff" reprint in 1974. This reprint is readily identifiable by the fact that the fourth line from the bottom of the copyright page states "Angriff Press", per photo below.  In recent years we heard a vintage interview recorded with Dr. Quigley in which he described how he was shocked to learn of an unauthorized reprint of his book by an entity in California.  He did not mention Angriff by name but we think it is reasonable to assume it was this reprint he was describing.  Those not familiar with the reprint history of this title are regularly fooled into believing the Angriff reprint is a first printing since the eighth line from the top on the copyright page states "First Printing", per photo below.  We have found that the Angriff reprint has more value in the resale market than other later reprints.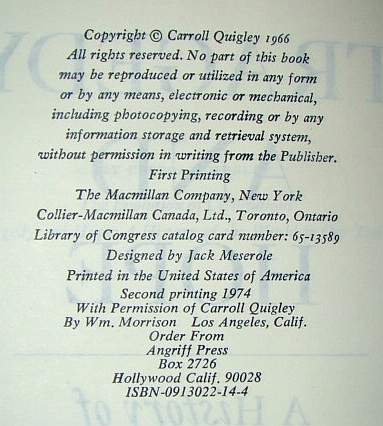 Here is the Angriff dust jacket.  Note the orange color on the front panel.  You will find an ISBN number atop the front flap, and please note the lack of writing at the bottom of the backstrip.  There are additional points but these are all you need to know.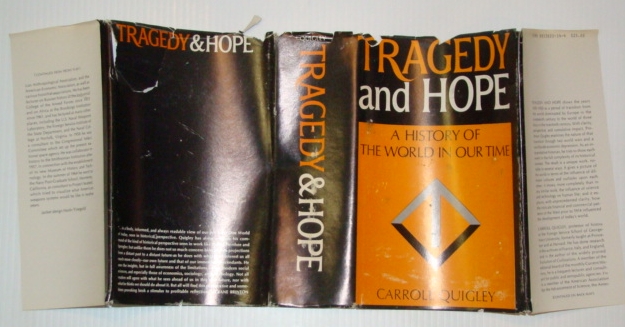 Most subsequent printings used black dust jackets similar to one below.  While these reprints have value as reading copies, our experience has been that they have no collectible value.  Further, we do not know which, if any, of these reprints have had their sensitive material removed.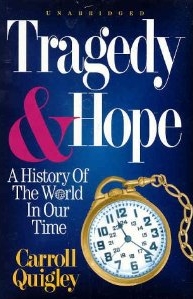 Now we get to some lesser known points.  We found the review slip below in a copy we purchased online.  We have no reason to believe the book it came in was anything other than a first printing, so will proceed on that basis.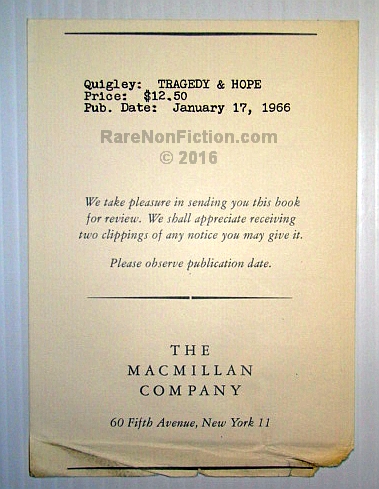 Here is the dust jacket of the copy which contained this review slip.  We believe it to be the true first printing dust jacket.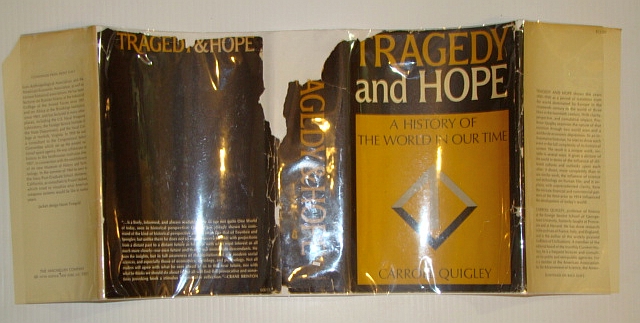 Note the black and gold coloring of the front panel, whereas the Angriff dust jacket was black and orange. Some additional points are the $12.50 price atop the front flap, the word MACMILLAN at the foot of the back strip, and the number 60013 in the lower right corner of the back panel. 
Here is the copyright page of the true first printing:
We purchased a copy online described as being a signed first printing.  When it arrived we compared the signature with a Quigley signature on file and it appeared authentic.  The book was signed and inscribed on the half-title, dated January, 1974. (Recall that the Angriff reprint came out in 1974)  Unfortunately this signed copy did not have a dust jacket but its title and copyright pages appeared to be identical to those of the first printing described above. It was only by accident that we noticed these two books were of slightly different dimensions!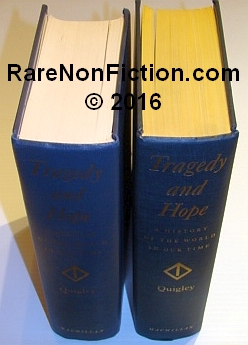 The first printing, on right, is 9.5" x 6.75".  Our signed copy, on left, is only, 9.3" x 6.5".  Also, note the yellow topstain present on the first printing but not on the signed copy.  Both books contain 1,348 pages.  The exterior color and material also seem to be marginally different, but we haven't explored these issues. 
In summary, it seems our signed copy must not be a first printing.  It is smaller than it should be, lacks the yellow topstain, and the boards appear to be covered with a marginally different material. 
As our signed copy is dated 1974 in Quigley's own hand, perhaps it too is an Angriff reprint, even though Angriff is not mentioned on the copyright page, as we saw above.  Perhaps Angriff made multiple reprints, or perhaps another bootleg reprinter is responsible.

Lastly, we have examined other copies we believe to be first printings, but their topstains have faded, sometimes entirely.  This is another topic for further research.
We hope this has helped equip you to track down your own true first printing of this special book. If it all sounds too complicated, please call us at 1-877-660-6118 or click here to purchase one of ours. :-)